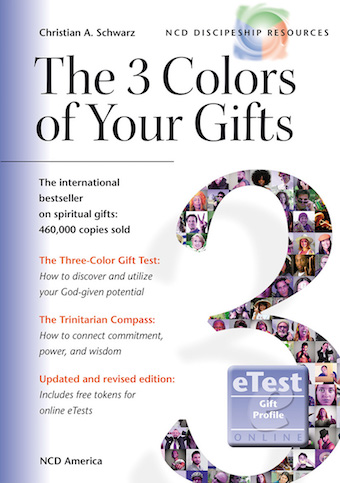 The international best-seller on spiritual gifts: 460,000 copies sold.
Comes with 2 free tokens for taking any eTest on this web site.
The 3 Colors of Your Gifts (previously The 3 Colors of Ministry) presents a holistic approach to identifying and developing your spiritual gifts. It is based on the three dimensions of God's nature, for which the author has chosen the colors green, red, and blue. In addition to emphasizing the critical importance of using your gifts in an authentically trinitarian way, this book shows you where you most need to focus your energies in order to bring this kind of balance to your service of others. The natural result will be increased effectiveness.
The Three-Color Gift Test: How to discover and utilize your God-given potential
The Trinitarian Compass: How to connect commitment, power, and wisdom
Updated and revised edition: Includes free tokens for online eTests
Chapter 1: What are the three colours of ministry...
Three ways to experience God
Three dimensions of ministry: commitment, power, wisdom
Are you a Thomas, Martha, Mary, Moses, Peter, or a Jonah
Your personal change compass and next steps
Chapter 2: What you should know about spiritual gifts...
Everybody is gifted
Mistakes are allowed
Spiritual gifts and universal Christian responsibilities
Quiz: What do you know about spiritual gifts?
Chapter 3: How to identify your spiritual gifts...
7 steps
The Three Colour Gift Test
Your manifest gifts
Your latent gifts
Understanding the results
Chapter 4: Learning to utilise your gifts...
The Three-Colour Church
The ministry description
Train your gifts
The danger of gift projection
Chapter 5: 30 spiritual gifts - backgrounds, definitions, practical tips.
Chapter 6: Frequently asked questions.
Buy the book
Apple devices (.epub) and Amazon Kindle (.kpf)
Christian A. Schwarz is founder and president of the Institute for Natural Church, Character, and Community Development (NCD International) and one of the world's most distinguished thinkers and communicators of "all by itself" growth. His institute has worked with over 80,000 churches in 70 countries, and his books have been published in more than 40 languages.