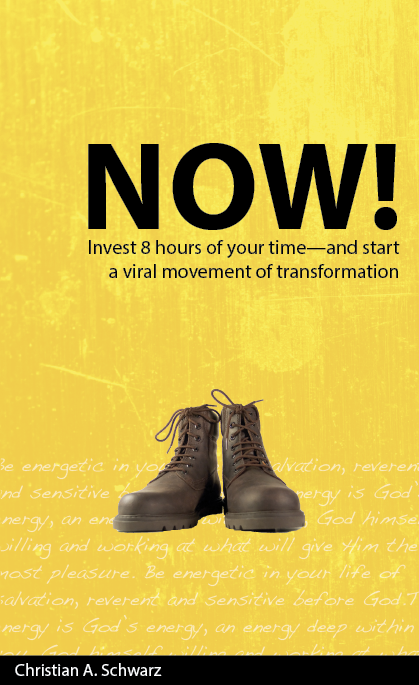 Invest 8 hours of your time-and start a viral movement of transformation
If you would like to see a transformed Christianity that contributes to the transformation of the world, you don't have to wait. You can start with exactly what you have right now, and you can start right away.
If you want to move beyond the 8-hour training, this book is for you. For each of the three pillars of the NOW! process (How to be an energy transformer, How to be a multiplier, The secret of ongoing growth), the book gives you the theological, psychological, and strategic backgrounds. And all of that is summarized in only 80 pages. Apart from providing more background information for people involved in the process, the book has been designed to be used for inviting people to join the process. It will appeal especially to those who need to know the backgrounds before they are willing to commit.
"One of the most exciting parts of my whole life is when I discover the sometimes surprising things God is doing or telling us in a given moment. In these moments, I know for sure: It's time to act!"
Buy the book
Apple devices (.epub) and Amazon Kindle (.kpf)
Christian A. Schwarz is founder and president of the Institute for Natural Church Develop-ment (NCD International) and one of the world's most distinguished thinkers and communicators of church development. His institute has worked with over 65,000 churches in 70 countries, and his books have been published in more than 40 languages.
Part of the NOW! movement